Chandlers plan new sailing trip after pirate kidnap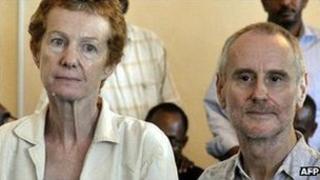 A British couple held captive by Somali pirates for more than a year have said they are planning a new round-the-world sailing trip.
Paul and Rachel Chandler, formerly of Tunbridge Wells, Kent, said they would be "defeated" if they stayed at home.
However, they said they would avoid all known areas where there is a "high risk" of piracy.
The couple, who now live in Devon, were seized from their yacht near the Seychelles in October 2009.
Mrs Chandler said they are planning to head south towards the Canary Islands before crossing the Atlantic to Brazil.
They will sail in the boat they were kidnapped from, the Lynn Rival, which was returned to the UK by the Royal Navy.
'Very unlucky'
"What happened to us was a very extraordinary event," she said.
"We were very unlucky and whatever you do, wherever you go in the world, you always face some risks and what you have to do is do your homework and aim to minimise those risks.
"But even if you are a ordinary person getting out of bed, going to work, travelling in your car, you're taking risks all the time.
"They may be low risks, but the risks we take in sailing generally are also very low risks."
The Chandlers, who now live in Dartmouth, were captured while sailing from the Seychelles towards Tanzania.
'Life is sailing'
They were released after a ransom of up to £620,000 was reportedly paid to their kidnappers.
Mr Chandler said the couple's family were "wonderful and welcoming" when they told them of their plans.
"They said: 'We'll just programme the autopilot so you go round and round the Isle of Wight in circles'," he said.
"They want us to get our lives back, and life for us at the moment is travelling and sailing. I think they're relaxed about it."