'Baroness in Blunderland' - can Warsi weather storm?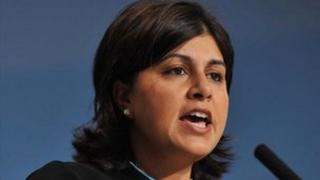 What can come next in the roller coaster life of Baroness Warsi of Dewsbury?
This week she is the Conservative Party poster girl with her picture dominating the party website with her congratulations to the Queen on her Diamond Jubilee.
But how long will David Cameron keep her as Co-Chair of the party and Cabinet member after a 10 day period where she has made two embarrassing public apologies and became the subject of two separate investigations into her conduct?
She will have a lot of explaining to do before she can feel comfortable again in either role.
Warsi's ups and downs
The former Sayeeda Warsi has had an incredibly fast elevation to the heights of government.
She could easily have been consigned to the ranks of would-be MPs after a spectacular failure to win her home town seat of Dewsbury in 2005.
After a badly-advised campaign the young solicitor not only failed to take the key West Yorkshire marginal but became one of the few Conservative candidates in the entire country to reverse the national swing towards her party.
Despite that, new party leader David Cameron elevated her to the House of Lords and she was one of the first names on his 2010 list of potential Cabinet members in 2010.
'Blunderbuss Baroness'
That really came as no surprise to journalists like me who had followed her political career since she was first selected as a candidate.
She worked hard to shrug off the disappointing electoral defeat and turned herself into a highly effective, tireless attack-dog for the Conservatives, without losing any of her natural amiability.
But her move to high office did not shelter her from a series of high profile public blunders leading to questions about her judgement.
Even before the dust had settled on the 2010 election she gave an interview to a leading political periodical claiming the Conservatives had failed to win an outright majority because Labour had retained several marginal seats through "electoral fraud".
Despite repeated requests she had never named the constituencies or put forward any evidence.
Embarrassing apologies
Two years on and the House of Lords Standards Commissioner is now investigating allegations that she claimed overnight expenses for a few weeks in 2008 when she was actually staying rent free in a friend's house.
She flatly denies the charge but it has to be asked how a former professional lawyer could even put herself in a position where suspicions are being raised.
Then came those embarrassing apologies.
First for the "oversight" of not telling the House of Lords authorities that she is receiving rental income from a flat she owns in London.
Then for failing to mention to the Cabinet Office that she was on business with a relative who joined her on an official visit to Pakistan.
David Cameron has asked his special advisor on ministerial interests to report.
There might well be an innocent explanation for these admitted lapses by a phenomenally busy Cabinet minister and senior party manager.
But if Baroness Warsi has so much trouble sorting out her own affairs there are plenty now asking how she can manage those of both her party and her country.