Alexander Monson Kenya police custody death: FCO wants 'urgent' investigation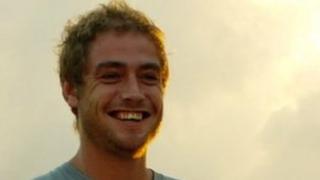 The Foreign Office says it has pressed for an "urgent and full" investigation into how the son of an English lord died in the custody of Kenyan police.
Alexander Monson, heir to his family's Burton estate in Lincolnshire, was arrested in the resort of Diani on 19 May on suspicion of smoking cannabis.
His relatives were told he died from a drugs overdose.
However, an independent pathologist hired by Mr Monson's family suggested he died from a head injury.
A Foreign and Commonwealth Office (FCO) spokesperson said: "We take any allegations of mistreatment of British nationals in detention very seriously.
"We are in close contact with the Kenyan authorities, and have pressed for an urgent and full investigation."
Mr Monson, 28, attended Marlborough College in Wiltshire and moved to Kenya after graduating from City University in London.
His father, Lord Monson, said family friends went to pay his bail after he was arrested, but were sent "from one policeman to another".
"Eventually they spotted his body," said Lord Monson.
"It was behind the police counter. He was unconscious. Even then the police refused to let him go and get him to an ambulance."
Lord Monson said police eventually agreed to get an ambulance, but his son remained handcuffed until shortly before his death.
"His mother arrived from Nairobi, [she] flew down at about four o'clock, and she saw her son chained to the bed. She couldn't believe it," he said.
"At 5:15 his face went a very peculiar colour. Only then did the CID officers agree to take the handcuffs off.
"And then he died."
Lord Monson said the post-mortem examination found his son had died from blunt force trauma to his head.
He is setting up a foundation in his son's name to "accelerate the process of police reform".
Lord Monson said he had also been working with human right campaigners in Kenya, who are planning a protest in Alexander's name.