London 2012: Torch relay hands Cornwall £12m boost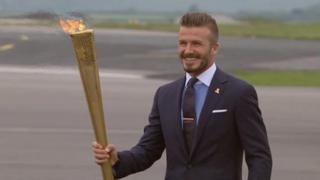 Cornwall received the equivalent of £12m through free advertising when the Olympic torch relay travelled through the county in May.
Tourism chiefs said the figure was double their estimate, attributing it to good weather and the presence of ex-England football captain David Beckham.
About 188,000 people watched the relay on its journey through Cornwall.
The Olympic torch is touring the UK before the opening ceremony of the London Games on 27 July.
The Olympic flame was flown into RNAS Culdrose in Cornwall on 18 May, with Beckham among those on the flight, and started its journey from Land's End.
The total value of the exposure to Cornwall from print, radio, TV and online from the relay was £11.9m said Visit Cornwall.
Malcolm Bell, head of Visit Cornwall, said: "It was the Beckham effect. It got the audience nationally and internationally.
"The weather was also good, dry and sunny but still cool, so not everyone had gone to the beach.
"The sun even came out just before the start."
Hosting the start of the relay cost the county £120,000, but Mr Bell said it would benefit the county for years to come.
'More than delighted'
Mr Bell said: "Almost a third of Cornwall's population watched the relay, with millions more watching around the world.
"We had tens of thousands of hits on our website.
"We are more than delighted with the coverage we got and the value for money it represented."
Local food producers run out of supplies, while other types of store such as DIY retailers showed a 30% drop in trade.
More than 40,000 people went to a torch party on Plymouth Hoe on the first overnight stop before the torch relay passed through Devon on day two and three of the relay.
Lynda Courtnadge, Mayor of Ilfracombe where Olympic gold medallist Jonathan Edwards ran in his home town, said the relay had created a "great uplifting effect".
"The atmosphere was electric, absolutely brilliant. It brought the community together," she said.
Tim Jones, chairman of Devon and Cornwall Business Council, said: "Numbers of people were completely beyond our wildest expectations."
He added that he was disappointed "harsh" restrictions on using Olympic logos and Olympic-related words such as 2012 in connection with sports-related goods had prevented some businesses from benefiting from the Olympics.
Olympics organiser Locog said while it tried to take a "pragmatic" approach, it had to protect the branding and sponsors' investment.
Chris Dawson, boss of the Devon-based Range stores, which was selling Olympic souvenirs including blow-up torches, rejected the argument that businesses were not able to cash in.
He said: "That's crazy - I made a fortune, we've had the best year we've had so far."