Workers to run SeaFrance ferries under Eurotunnel deal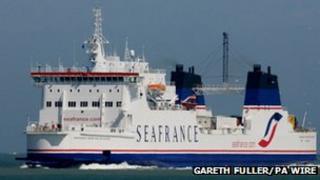 The assets of liquidated ferry operator SeaFrance have been awarded to Eurotunnel in a deal that will bring three ships back into operation.
Under the deal, the Channel Tunnel operator will buy three SeaFrance ferries and lease them to a workers' co-operative, restoring 560 jobs.
Eurotunnel made a 65m euro bid and was awarded the assets by a French court.
SeaFrance went into liquidation earlier this year with the loss of 880 jobs in France and about 130 in Dover, Kent.
The ferry company went into receivership in 2010. Its vessels had carried more than 3.5 million passengers a year on the Dover to Calais route.
The firm owned three of the four ships it ran across the Channel, which have been tied up in Calais since January.
The tribunal in Paris awarded the assets on the condition the shipping company operated under the French flag and Eurotunnel leased the ships to a workers' co-operative.
Competition concerns
The BBC's Paris correspondent Christian Fraser said it was not yet clear whether the new company would operate under the same name.
He said the French-owned Louis Dreyfus Armateurs, which runs the service from Newhaven in East Sussex to Dieppe, had been in the bidding for one of the ships, but the Eurotunnel deal was deemed to be the workers' best chance.
He also said the deal put Eurotunnel in direct competition with British company P&O which operates ferries between Calais and Dover, carrying eight million passengers a year.
A statement issued by P&O said: "P&O Ferries is waiting to see the detail of Eurotunnel's proposals but on the face of it the decision of the Tribunal de Commerce raises issues for the cross-Channel market as a whole.
"We will be highlighting to the competition authorities our concern that a level playing field is preserved to enable competition on a fair basis."