Family of missing runner John Lawton 'needs answers'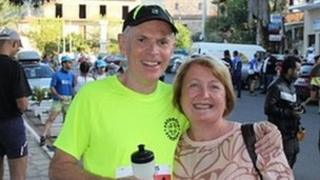 The wife of a runner who went missing during a Greek endurance race in April says she desperately wants to find him and needs to keep the search going.
John Lawton, 62, from Alsager, in Cheshire, went missing on 8 April in southern Greece.
His wife Lynda said if she did not pay for a search team to try to find her husband no-one would be looking for him.
The Greek police have said the case remains open, she added.
Mr Lawton was taking part in the Taygetos Challenge 2012 race when he disappeared.
Last month, Fiona Bruce, Conservative MP for Congleton, Mr Lawton's constituency, said ministers should ask the Greek government to reconvene the search.
'Not knowing'
However, Foreign Office minister David Lidington said it was not for the UK government to instruct the Greek authorities.
Mrs Lawton said she wanted UK officials to "influence" Greek police in the hope the police would "move things along".
She said not knowing where her husband is was particularly hard.
"It's knowing the Greek police are not doing much to find him.
"At first the search was very strong and the search [now] is only if we go out, or friends of ours go out, or we pay Cheshire Search and Rescue to go.
"They are volunteers and they are amazing.
"We pay their flights and everything but they give up their time for us."
'Not likely alive'
DNA results on discarded packets of energy gel on the race route indicate they were used by Mr Lawton, Cheshire Search and Rescue Team said.
They were found close to the fifth checkpoint, leading the search team to think he made it further than the area initially searched by investigators.
"My hope is to just bring him back," Mrs Lawton added.
"I know the outcome is that he is not likely to be alive.
"I have to face that now.
"Even if that is the case, I just need them to find him so I can bring him back home."