TV digital switchover in East Sussex and Kent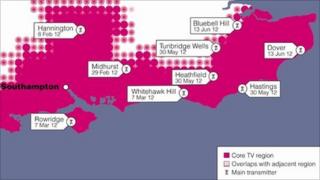 Digital switchover continues across East Sussex and Kent during which the five analogue TV channels will be switched off.
Freeview signals will be boosted enabling thousands of homes to receive the digital service for the first time.
An advice line and website are available to help with the switchover.
Those receiving a Freeview signal from transmitters in East Sussex and Kent will need to re-tune their receivers on 13 June.
Analogue services will be switched off in two stages.
At stage one, analogue BBC Two will be switched off and the first group of Freeview digital channels will become available from relay transmitters for the first time.
At stage two, the remaining analogue channels will be permanently switched off and replaced with additional digital TV, radio and text services.
Users of the Freeview service will need to do a full re-tune at both stages of digital switchover to get all the channels that are available.
The Digital UK website has more information on how to carry out a full re-tune.
Before switchover, Freeview channels were available from main transmitter sites only, offering viewers with digital TVs or set top boxes a line-up of more than 40 channels.
Switchover will see more than 1,000 local relay transmitters upgraded to digital.
After switchover, relay transmitters will broadcast around 15 Freeview TV channels, including BBC One, BBC Two, ITV1, Channel 4 and Channel 5 plus associated services such as ITV2 and BBC Three.
Viewers can use the postcode checker at digitaluk.co.uk to check channel availability in their area or ring the advice line on 08456 50 50 50.
The Switchover Help Scheme will offer equipment and practical support to older and disabled viewers. It will write to eligible viewers in the run-up to switchover. Call 0800 40 85 900 or visit helpscheme.co.uk for more details.