Knighthood for Richard Stilgoe in Queen's Birthday Honours list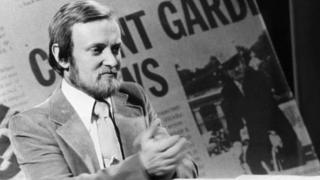 Richard Stilgoe, who composed music for BBC One shows such as Nationwide and That's Life, has been made a knight in the Queen's Birthday Honours list.
Born in Camberley, Sir Richard is honoured for his charity work which has seen him give away millions of pounds.
Will Travers, son of Born Free actors Virginia McKenna and Bill Travers, has been appointed OBE.
Mr Travers has been honoured for his work to protect endangered and suffering animals around the world.
Sir Richard's charity work includes setting up the Orpheus Centre, a residential care home giving disabled students performing arts skills, which is located in his old home.
He said: "I'm not sure anybody does anything to be philanthropic. I think we act to sleep well in our beds and we try to do things that make us feel content.
"And in the course of doing it you get so much reward - you just feel happier.
"You meet a lot of people who have done very well for themselves, but they are still miserable."
Sir Richard has also featured in numerous BBC radio shows and has hosted TV quiz programmes, as well as appearing frequently as the guest in Dictionary Corner in Channel 4's Countdown series.
He said of his knighthood: "It's a great honour. I am thrilled - and a bit embarrassed.
"I'm mostly thrilled for the Orpheus Centre and YouthMusic and all the people I've worked with over the years, and I wouldn't have got it if it wasn't for them."
Others to be honoured by the Queen in Surrey include Patricia Jones, former director of the Prisoners' Education Trust, who is appointed OBE for services to offender learning.