Lianne Smith 'spent night with dead children'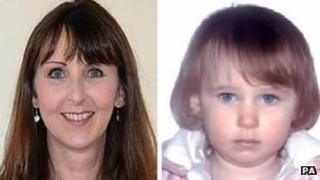 A British woman killed her two children in a hotel room in Spain while they slept and spent the night with their bodies, a court has heard.
Lianne Smith, 45, has admitted smothering Rebecca, five, and 11-month-old Daniel, in Lloret de Mar, Costa Brava, in May 2010.
The Provincial Court in Girona will determine whether she is criminally responsible for two counts of murder.
Her lawyer said she was in a state of "psychiatric disturbance" at the time.
The hearing heard that she had tried to take her own life after the deaths and left four notes.
In one of the notes, addressed to Rebecca and Daniel, she wrote: "I love you very much. I haven't been able to give you a marvellous life together. I am so sorry."
The deaths took place after Ms Smith's partner, Martin Smith, was extradited to the UK on charges of sexually abusing a girl.
Smith, a 46-year-old former TV psychic, originally from North Shields, North Tyneside, was later convicted of rape and jailed for 16 years.
In January he was found hanged in his cell in HMP Manchester.
'Lifeless bodies'
The couple, who share the same surname but are not married, left Lichfield, Staffordshire, for Spain in 2007 with Rebecca. Daniel was born in Spain.
Previously they had been living in Cumbria, where the offences occurred.
Victor Pillado Quintas, prosecuting, said that it was not clear who Rebecca and Daniel's father was.
He said in his opening statement that on the night of 17 May, while they were asleep, Ms Smith had "taken advantage of the trust the children would have had in their mother".
"She took her son in her arms and put a bag over his head, closing it around his neck," he said.
"She did not stop tightening the bag until she had killed him.
"Immediately she did the same to the five-year-old, closing the same bag around her neck and tightening it until she killed her daughter.
"After ending the lives of her children she spent the night with their lifeless bodies."
The following day Ms Smith went to reception and asked for police and an ambulance.
She confessed to police and the judicial authorities that she had ended the children's lives, said Mr Pillado Quintas.
He told members of the jury they would have to decide whether she knew that it was wrong or whether she was suffering from a mental condition at the time.
Defending, Jenifer Lahoz Abos, said Ms Smith had a "total emotional dependence" on her partner and was left in a state of psychosis after he was arrested in Barcelona on 7 May 2010.
'Break with reality'
She said Ms Smith had "lost contact with reality" and thought UK social services staff had tracked her down and were going to take her children away.
"On May 15 she went out shopping with both the children and saw two people in a car who she later saw walking down the street," Ms Lahoz Abos said.
"She felt observed and threatened and made a clean break with reality and thought she was being chased by the two people, who she thought could be members of the British social services.
"She thought they were going to come and take her children away and give them to other families in adoption."
Ms Lahoz Abos added: "At this moment she entered a state of panic and lost contact with reality, interpreting events in a totally distorted manner, with delirious beliefs that she was in danger."
The jury was shown a video of a statement Ms Smith made to police the day after the children died, filmed in a room next to where the killings took place.
In the video she said: "I gave my children a three-day holiday, a perfect holiday, we were very, very happy.
"We came here to Lloret with nothing, we had left everything again. This was the end of the road, I knew my children would be taken back to England.
"So I know it's not right to take another life, but I felt I was in a corner and my intention was for me and my children to go.
"It was not just the children, it was me as well."
The trial is expected to last four days.