Film warns North West teenagers about open water swimming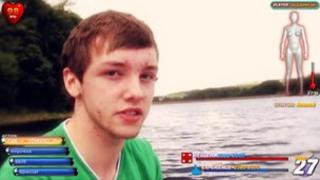 A film has been launched to warn teenagers in the North West about the dangers of swimming in open water.
The film, called Not a Game, shows a boy going for a swim at a local reservoir to impress a girl before he gets into difficulties and drowns.
Nine people have drowned in open water in the North West in the past four years.
The last was Thomas Barton, 15, who drowned in Big Lodge Water in Yarrow Valley Park, Chorley, on 27 May.
The film has been produced by United Utilities, which owns more than 180 reservoirs across the North West.
Icy waters
Although there have been no fatalities at its reservoirs in recent years, the company wants to make sure people know about the dangers.
The film, which uses realistic footage of a drowning incident with gaming-style graphics, has been praised by emergency services including Greater Manchester and Lancashire Fire and Rescue teams and the North West Ambulance Service.
United Utilities said it wants to warn people that reservoirs, lakes and quarries can have icy waters, steep sides, hidden currents and sudden drops, and even the strongest swimmer can quickly get into serious trouble.
Area Manager Dave Keelan, from Greater Manchester Fire and Rescue Service, said: "Greater Manchester's reservoirs, rivers and canals are breathtaking locations but you just don't know what's underneath the surface - we, sadly, are well aware because our crews are regularly called to rescue people who have gone into the water and got into trouble.
"Our firefighters and community safety teams work hard to ensure those enjoying the water are fully aware of the hazards and why they shouldn't go in.
"We are looking to develop and expand on what we do to educate people and this film by United Utilities will support that and make a real impact on the younger people they talk to about water safety."