Lianne Smith 'calm' after children's deaths in Spain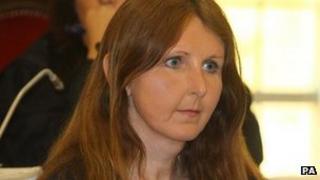 A British woman who killed her two children in a hotel room in Spain was "astonishingly calm" when she showed police the bodies, a court has heard.
The Provincial Court in Girona is determining whether Lianne Smith is criminally responsible for murder.
The 45-year-old, formerly from Cumbria, has already admitted smothering Rebecca, five, and 11-month-old Daniel.
Her lawyer said she was in a state of "psychiatric disturbance" at the time of the deaths in May 2010.
Giving evidence, Anna Savelieva, a receptionist at the Miramar Hotel in Lloret de Mar, said Ms Smith had asked her to call emergency services.
She described her as calm when she made the request.
"I asked her if she needed help and she said, 'Just call the police, I will talk with them'," she said.
The first officer at the scene, Agent 504 of Lloret de Mar local police, said that when he arrived at the scene Ms Smith pointed to the bed.
"I saw little knuckles, a baby's knuckles, pointing out from under the sheets," he said. "First I found a baby and then a little girl, and I could see they were both dead.
"The woman was calm, she was not saying anything, so I went out on the balcony and called the control room to let them know what was happening."
Agent 2681 from the Mossos d'Esquadra, the Catalan regional police force, was sent to the room when it became apparent that a murder investigation was under way.
"I was shocked by her attitude, the astonishing calmness and coldness she displayed," he said.
The hearing had previously heard that she had tried to take her own life after the deaths.
They took place after Ms Smith's partner, Martin Smith, was extradited to the UK on charges of sexually abusing a girl.
'Relationship changed'
Smith, a 46-year-old former TV psychic, originally from North Shields, North Tyneside, was convicted of rape.
Less than a year after he was jailed for 16 years he was found hanged in his cell.
The couple, who share the same surname but were not married, left Lichfield, Staffordshire, for Spain in 2007 with Rebecca. Daniel was born in Spain.
Previously they had been living in Cumbria, where the sex offences occurred.
A statement from Ms Smith's mother, Doreen Smith, was read out to the court.
In it, she said she was unaware of Rebecca's birth until another grand-daughter told her, and only found out about Daniel after his death.
She added: "All I can say is that my daughter is not the same person I once knew.
"Her whole relationship with our family changed after she began her relationship with Martin Smith.
"I do not know what happened between them but I was worried from the start there would be problems.
"[She] would always say things were going well. It seems that was not the case."
The trial, which began on Monday, is expected to last four days.