Surrey bids to lure Gatwick tourists from London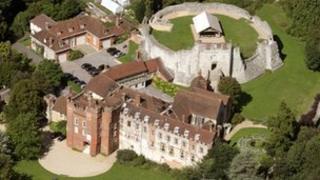 Tourism chiefs have set out to tempt Gatwick Airport's 33m passengers-a-year to "ditch the bright lights of London" and explore the south of England.
Airport chiefs, Surrey and West Sussex county councils and Tourism South East have teamed up to develop a website called Aroundgatwick.com .
The council said the site was designed to coincide with London 2012 to raise the profile of the area.
Attractions in Surrey and Sussex include Box Hill and the South Downs.
Box Hill, an area of the woodland and chalk downland, will host the most gruelling stretch of the Olympic cycle road race this summer.
"Our aim is to encourage the millions of people who travel through Gatwick Airport to visit Surrey instead of taking the express train straight to London," Surrey's cabinet member for London 2012, Councillor Helyn Clack said.
She said the South East had many attractions from castles and English villages to award-winning vineyards and museums.
"This summer's Olympic and Paralympic Games will bring hundreds of thousands of tourists to the UK and this new website should lead to more of them visiting Surrey and the rest of the South East," Ms Clack added.