Shafilea Ahmed death: Sister stands by her parents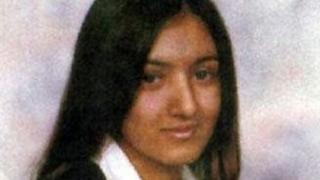 One of Shafilea Ahmed's sisters has told a jury that her parents played no part in the teenager's death.
Mevish Ahmed, 21, was giving evidence in the trial of Iftikhar and Farzana Ahmed at Chester Crown Court.
The couple deny murdering Shafilea, 17, at their home in Liverpool Road, Warrington, in September 2003.
Ms Ahmed said she stood by the statements she made to police in December 2003, when Shafilea was missing.
She was cross-examined by Tom Bayliss QC, who is defending her 52-year-old taxi driver father.
He said: "The police officer asked you, 'did you think your mum and dad were involved in Shafilea's disappearance and could they be involved in any way'?
"The 12-year-old you said no, what does the 21-year-old you say?"
Miss Ahmed replied: "No, still."
'Out of context'
Shafilea's body was found on the bank of the River Kent in Cumbria in February 2004.
Another sister, Alesha, 23, earlier told Chester Crown Court their parents suffocated Shafilea in front of the other children.
She said she heard her mother say, "Just finish it here" in Urdu as they forced a plastic bag into the teenager's mouth.
The jury has also seen extracts of writings made by Mevish Ahmed and given to a friend, Shahin Munir, which appeared to corroborate Alesha's accusation.
Mevish Ahmed has said they were "fiction" and had been taken out of context.
Speaking on Wednesday, she said: "I feel like they are being blamed for something they have not done. I couldn't live with myself if, and obviously (the writings) have been taken out of context, they went down for something they didn't do."
'Broken promise'
The court later heard evidence from Mevish Ahmed's friend, Shahin Munir.
The 22-year-old student said she handed police the documents after the trial had started.
She told police she had some information "which could help the case", but later "ran out" during an interview after feeling upset.
Ms Munir said: "I promised Mevish four years ago I would never tell anybody and I got upset because I realised I'd broken my promise to her."
When asked by Andrew Edis QC, prosecuting, why she decided to break that promise, she replied: "I knew deep down it was the right thing to do".
'Started hitting her'
The court also heard that Ms Munir kept a diary, in which an entry on 8 August 2008 recorded a conversation with Mevish Ahmed in a park.
Ms Munir said Ms Ahmed told her that on the night Shafilea died there had been a row because the teenager had forgotten her coat when she was collected from work.
She told the court Ms Ahmed had told her that after the family got home, her father "started beating [Shafilea] and started hitting her".
She said Ms Ahmed had said she "did try to intervene but her mother knocked her back".
Ms Munir said Ms Ahmed told her her father had got a plastic bag and "he used it to suffocate Shafilea".
The trial continues.