MPs tell government to 'come clean' over Yorkshire Regiment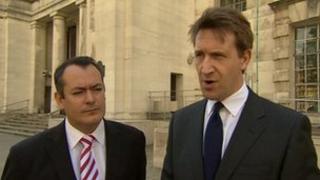 The government has been urged to end speculation about the future of the Yorkshire Regiment.
The regiment currently consists of three full-time battalions but there is concern it could be reduced to two as part of defence cuts.
Four Yorkshire MPs have now written to the Defence Secretary Philip Hammond urging him to "come clean" about the regiment's future.
The Ministry of Defence (MoD) said no decisions had yet been made.
Patrick Mercer, Conservative MP for Newark, told the BBC on 12 June he understood the regiment's third battalion, part of which is currently deployed to Afghanistan, would be cut.
'Right thing'
Four Yorkshire Labour MPs have now called for clarity to end the speculation.
Dan Jarvis, who represents Barnsley Central, said: "We've currently got soldiers doing the most difficult job in Afghanistan. They don't know what the longer-term future of their battalion is going to be.
"That is difficult for them and of course for their families across Yorkshire."
Mr Jarvis said he believed a decision about the regiment had already been taken.
"They should do the right thing for the Yorkshire Regiment and come clean," he added.
The letter was also signed by Labour's Barnsley East MP, Michael Dugher; Angela Smith, Labour MP for Penistone and Stocksbridge and the Labour MP for Wentworth and Dearne, John Healey.