Lianne Smith killed children 'out of love' court hears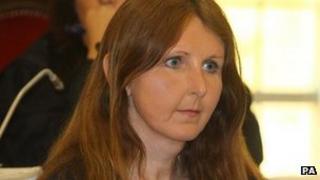 A British woman killed her two children in a hotel room "out of love for them", a court in Spain has heard.
Lianne Smith has admitted smothering Rebecca, five, and 11-month-old Daniel in Lloret de Mar in May 2010.
The Provincial Court in Girona is determining whether the 45-year-old is criminally responsible for murder.
Her defence is seeking an acquittal, claiming she was in a state of "psychiatric disturbance" when the tragedy happened.
The deaths happened a few days after Ms Smith's partner, Martin Smith, was extradited to the UK on charges of sexually abusing her eldest daughter by another relationship.
'Unavoidable catastrophe'
Forensic psychiatrist Itziar Idiaquez Alberdi, who interviewed Ms Smith four times, said: "She believed the children would be taken away from her and institutionalised.
"For her this was worse than death. She was living in permanent fear of what might happen.
"She killed them out of love. She loved the children."
Psychiatrist Harry Barker, who treated Ms Smith in Girona prison, said the 45-year-old had asked Rebecca if she would prefer to live a few very happy days with her mother or a long time without her, and Rebecca had replied that she wanted to stay with her mother.
He added that Ms Smith saw the deaths of her children as "an unavoidable catastrophe".
'Abominable act'
After hearing the evidence, prosecutor Victor Pillado Quintas agreed that she was suffering "pathological emotional dependence and a psychotic disorder which impaired her faculties" but argued that she was criminally responsible for the deaths.
"I do not think there is a more abominable act than ending the life of a small child," he said.
"But if there is something which is even more horrid, more vile, more despicable than taking the life of a small child, it is that a mother should take the life of her own small child.
"During this trial it has been said that the prosecution is out to get blood, to get punishment for punishment's sake.
"All the prosecution wants is for justice to be done."
The hearing had previously heard that she had tried to take her own life after the deaths.
Her partner, Martin Smith, was convicted of raping a girl under 16 and jailed.
The 46-year-old former TV psychic, originally from North Shields, North Tyneside, was found hanged in his cell in January.
The couple, who share the same surname but were not married, left Lichfield, Staffordshire, for Spain in 2007 with Rebecca. Daniel was born in Spain.
Previously they had been living in Cumbria, where the sex offences occurred.