The 'mini-renaissance' of mild beer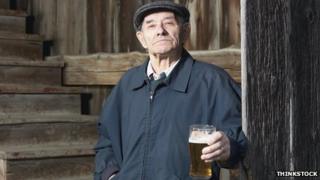 A beer company has stopped producing a cask beer claiming there is not enough demand for it.
Ansells Mild, which has been brewed since the late 1800s in the West Midlands, will now only be available in keg form.
Carlsberg said it could not brew the required volume of beer to ensure its quality after only 300 casks were ordered in the last 12 months.
But does the news mean time at the bar for other mild ales?
Mild started out as a popular drink with factory workers but by the 1970s it had gained a reputation as an "old man's drink".
The situation got so bad that the Campaign for Real Ale (CAMRA) listed it as "endangered" and launched a campaign to save it.
The campaign Mild in May has been running for over 10 years during which time ale itself has undergone something of a resurgence.
Jon Howard, CAMRA spokesman, said at the end of the 20th Century there were 500 real ale breweries in the UK while in 2012 there are over 850 with 80 of those based in the West Midlands.
He said: 'The growth in the number of breweries on these shores in recent years has been staggering.
"This incredible growth has been fuelled by a new generation of discerning, savvy consumers who appreciate quality, provenance and actively support local businesses.
"Many of these consumers have grown tired of drinking the same international brands, and this has helped the wider revival of many traditional beer styles such as the mild."
'Women drinking'
There are currently thought to be around 230 mild beers brewed in the UK - double the number that were available in 2000.
Mr Howard added: "While the news about Ansells Mild is disappointing as it was a well loved brand, thankfully across the UK the mild has undergone a mini-renaissance."
One company which has witnessed this is Hobsons Brewery, based in Cleobury Mortimer in Shropshire.
Hobsons Mild was the second beer the company started brewing.
The business began making mild in 2003, going on to win CAMRA Champion Beer of Britain in 2007.
Kate Pearce, marketing manager for Hobsons, said the company had worked to change people's perceptions of the drink.
She said: "We've tried to make it more contemporary by showing women drinking it in our marketing so people stop viewing it as an old man's drink.
"In the Midlands it was linked to industrial workers who liked it because it was refreshing and cheap but it also had a reputation for not having much flavour.
"We developed a mild that is low strength but with a very smooth flavour."
She added during CAMRA's Mild Month they had seen a 26% increase in demand with pubs across Shropshire and surrounding counties keen to stock the brew.
The rise in interest will be good news for those who love the traditional brew, and for fans of Ansells Mild it may not be the end as the company will continue to produce the beer in keg form.
Carlsberg has also said it may start to produce the cask beer again if demand increases.
Joanna Dring, spokeswoman for Carlsberg, said: "Although we are not brewing the cask version at the moment, this does not mean we won't ever brew it.
"On the contrary, if we could ensure enough pubs wanted to stock the beer and could be certain the volume we brew would guarantee quality, we would certainly consider brewing Ansells Mild cask again."