Elizabeth Truss MP calls for maths teaching revamp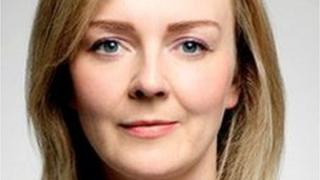 Norfolk MP Elizabeth Truss despairs that England is not up to the mark when it comes to numbers.
Her solution? To make it compulsory all the way through school.
"It's the subject where we have the biggest problem," she says. "We're 28th in the world when it comes to maths.
"We've got the lowest proportion of 16 to 18-year-olds studying the subject and we haven't got enough people doing maths for the number of university places that are available or for what employers locally demand."
With Ofqual considering a reform of A-levels, she has published a paper calling for the subject to be compulsory in school right through to 18. She points out that most, or all, students study mathematics to 18 in Germany, Korea, Japan, Canada, France and the US.
Yet fewer than 20% of students study mathematics post-16 in England.
"We're out of line with the rest of the world and we need to catch up," says the MP for South West Norfolk.
Her plan is for the subject to be taught at levels:
Core maths for those who intend to study arts and just need a general background in the subject;
Preparatory for those who may go on to do social sciences;
Advanced maths for students who want to do maths and physics at university.
She points to research by King's College in London which finds a 16-year-old's understanding of maths today is not as good as it was in the 1970s.
"Their ability to do ratios and multiplicative reasoning is not good and those are the skills you need to analyse a mortgage, to handle your finances or to do many jobs in the workplace these days which are increasingly focussed on IT and technical skills.
"The problem is the current A-level system, which concentrates on three or four core subjects and forces students at the age of 16 to choose between arts and science.
"I don't think that's a choice we can make any more in the modern age," she adds.
Whenever MPs talk to businesses, they complain about the skills gap. That's why the government has just announced plans to beef up the primary curriculum and why it's hoping to do the same in secondary education.
Elizabeth Truss wants to be one of the key voices in the debate.