Badger cull plan 'legally flawed', High Court hears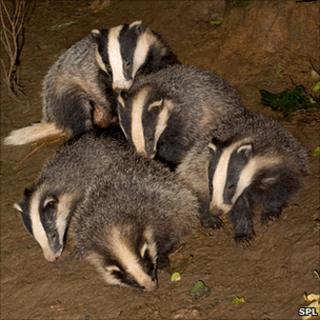 A High Court battle has begun following a legal challenge by the Badger Trust to government plans to cull badgers.
In December, plans were announced for a cull, initially in Gloucestershire and Somerset, to try to curb the spread of tuberculosis (TB) in cattle.
Government lawyers said its policy was lawful and reasonable and based on the evidence of scientific experts.
But the trust's QC argued the plans were "very controversial" at both the animal welfare and scientific level.
The Badger Trust, which represents about 60 voluntary badger groups, has accused the livestock industry of using badgers as a scapegoat and underestimating the risk of cattle-to-cattle transmission of bovine tuberculosis (bTB).
It said the problem should be dealt with through vaccination.
But the government said vaccination was "not a sufficient response to the problem".
It said nearly 25,000 cattle were slaughtered in England in 2010-11, at a cost of £91m to the taxpayer, and the disease was having a devastating impact on livestock farmers.
'Legally Flawed'
The court heard that Caroline Spelman, secretary of state for environment, food and rural affairs (Defra), planned to introduce the initial culls later this year.
David Wolfe QC, appearing for the trust, said if the courts did not intervene the culls would take place in two areas - west Gloucestershire and west Somerset.
Each area is approximately the size of the Isle of Wight and it was estimated 3,800 badgers could eventually be killed in each of the four years of culling, he said.
The scheme could eventually lead to culling in up to 10 areas per year.
Mr Wolfe told Mr Justice Ouseley, sitting at London's High Court, that the decision "has been very, very controversial both on the animal welfare level and also the scientific level".
He said the policy was legally flawed because Defra was asking Natural England to issue shooting licences under section 10 (2) of the Protection of Badgers Act 1981.
That section's aim was to "prevent the spread of disease", he said.
Mr Wolfe also said the policy would cause the disease to spread.
Although the incidence of bTB in cull areas was expected to drop, shooting would result in badgers roaming from their settled territories over larger areas, while others would come in to take over culled land, argued Mr Wolfe.
"Culling will actually cause the very problem section 1O(2) licences are supposed to prevent."
He also accused Defra of failing to take into account the potential costs of setting up the two initial cull areas.
The hearing continues.