Glen Daly Crete death: Parents' fight for justice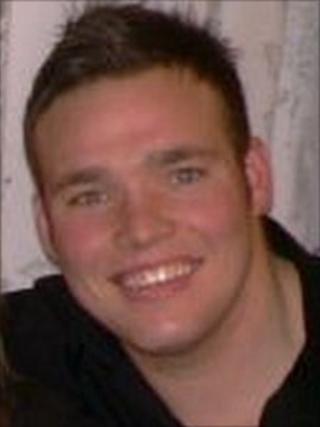 Parents of an Essex man killed in a crash in Crete have pledged to continue their fight for justice after a coroner heard he died in an alleged hit-and-run incident.
Glen Daly, 24, of Chadwell St Mary, near Grays, died when his motorcycle was involved in a collision with a lorry on the Greek island in June 2009.
The lorry driver has been charged with negligent homicide.
A Chelmsford inquest heard of problems getting information from Greece.
A civil case found the driver was responsible for the death and said the family could claim compensation but, three years on, the criminal prosecution is ongoing. The next hearing will not take place until February.
'Never stop campaign'
Coroner Caroline Beasley-Murray had faced continual obstacles while probing the death, the inquest heard.
She recorded a verdict that Mr Daly died in a road traffic collision but said only limited information had been forthcoming from Greek authorities.
After the inquest, his parents, Les and Dorothy Daly, said they would not rest until they had found justice.
The inquest heard that other than a brief police summary confirming the incident and a post-mortem examination showing Mr Daly died from head injuries, no other information had been provided by Greek investigators.
Mrs Beasley-Murray told the family: "I'm sure you are aware of the difficulties we face investigating deaths overseas.
"It is often difficult but it has been particularly difficult dealing with the Greek authorities."
Mrs Daly said outside court: "We will never stop our campaign for justice.
'Drove off'
"We can't rest until it has been proven in court what happened to him."
Mr Daly was on the third day of his holiday with his friend Tony Atkins when he died.
Mr Atkins told the inquest: "We had been sightseeing and were returning to our hotel.
"I was doing about 30 to 40km/h when I noticed a lorry in a lay-by. It pulled out suddenly and I had to swerve and accelerate to avoid it.
"I was shouting at the driver and he was shouting back. I heard a skid and a bang.
"When I looked around Glen was lying in the road. The driver stopped, got out, moved the moped and then drove off. A passing nurse stopped to help and the emergency services were called."
Mr Daly was a keen rugby player at Thurrock Rugby Club and was engaged to be married.