Beck Row caravan site murders: Man found guilty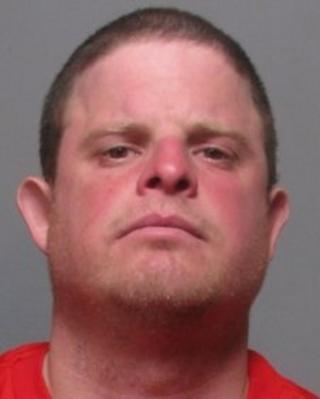 A "'merciless" killer who gunned down two men in execution-style murders has been jailed for life with a minimum term of 35 years.
Christopher Line, 29, of Beck Row, was found guilty of the double murders after a trial at Ipswich Crown Court.
David Castell, 29, and Shane Hill, 20, both from Southend, Essex, were found dead at Willow Park travellers' site, in Beck Row, Suffolk on 15 March 2011.
The shootings related to a family dispute, jurors were told.
Mr Justice Saunders, sentencing, said: "They were brutal and merciless murders that demonstrated that the defendant has little regard for the lives of others."
Det Ch Insp Neil Luckett, of Suffolk police, said: "David Castell and Shane Hill were shot several times by Christopher Line with a shotgun, some of those shots were to head and at close range.
"His intention to kill them was clear. The manner of each death was described in court as 'executions'.
"It will never be completely clear why this happened but what is apparent is that a dispute between individuals escalated to an unacceptable level and resulted in these tragic deaths."
After the case, Tony Hill, Mr Hill's stepfather, said: "We are aware that there are other culprits still out there involved in the circumstances surrounding this horrific attack on our son and we hope they are brought to justice soon."
Jane Grove, mother of Mr Castell, said: "His family will always be left with a huge void where David should have been.
"His children will grow up never really knowing their dad."
Ten people arrested as part of the investigation were released without charge, police said.