Flooding: Insurance worries as Yorkshire swamped again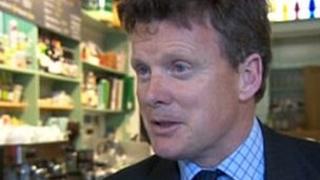 The thousands of unfortunate people trying to put their lives back together after being flooded out of their homes and businesses did not get much comfort from me this week.
First, I went to Hebden Bridge in West Yorkshire to interview the Floods Minister Richard Benyon. He confirmed the government is cutting spending on flood defences by 6% over the next four years.
Then I rang the Association of British Insurers to see whether that has any effect on its "statement of principles" - a temporary agreement with government to keep on issuing cover in flood-hit areas where they have suffered massive claims.
The statement runs out in June 2013 and talks are at a critical stage to hammer out a replacement agreement.
The answer was blunt. They want "effective spend on flood defences to manage the risk".
I topped the whole thing off with comments from the prime minister in a report for BBC Sunday Politics for Yorkshire and Lincolnshire.
David Cameron, also visiting flood-hit West Yorkshire, warned he would "robustly negotiate" to ensure insurance companies "did what it says on the can and provide insurance for floods".
As politicians and insurance companies wrangle, the fears of concerned residents caught in the middle are growing.
One of them is Jason Taylor of Darfield, near Barnsley. He showed me waterproof door covers and air bricks just installed at his home by contractors paid for by the Environment Agency.
It has been a long time coming. The ground floor of Jason's modest terraced home was virtually smashed to pieces by flood water five years ago. His insurance company paid out £51,000 to put it all back together.
Now Jason cannot afford to get flood cover.
"Just one company even gave me a quote," he told me. "They wanted £1,100. How on Earth can I afford that?"
Before the floods the average cost of home and contents insurance in his street was around £200.
The insurance companies say the Environment Agency has to reduce the risk of flooding by building more flood defences.
In Jason's case, the Environment Agency put the risk of the nearby River Dearne bursting its banks as a "one-in-75 year event" just after the floods.
Five years on things have got worse. It is now estimates it as a "one-in-25 year event".
Labour says the position is far worse than the government admits.
At a 'floods crisis summit' organised by the party in Hull, Shadow Environment Secretary Mary Creagh said the figures have been massaged. She puts the budget cuts at nearer to 30%.
Hull's three Labour MPs say replacing the insurers' statement of principles is essential.
Hull was hit so hard in 2007 the city's Labour MPs claim insurance companies would stop issuing cover without it.
On his tour of Hebden Bridge, Richard Benyon insisted negotiations are progressing well and an announcement is expected "soon".