Police budget cuts are 'risk to Devon and Cornwall force'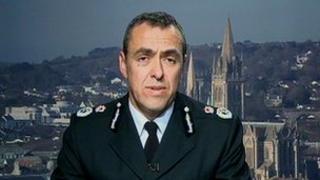 Maintaining public safety with fewer officers remains the key aim of the Devon and Cornwall Police force, its acting chief constable has said.
Shaun Sawyer's comments follow a report by HM Inspectorate of Constabulary (HMIC), which claims it may not be able to provide a proper service.
The force is cutting £51m in spending over four years.
Acting Ch Con Sawyer said "challenging times" had led to an "inevitable loss of officers and staff".
Despite this, he said he was attempting to deliver a balanced, efficient police service.
Neighbourhood work 'stretched'
"Achieving the correct balance between front line and back office is essential," he said.
The force has an annual budget of about £255m and is due to see its number of officers drop from 3,500 in March 2010 to about 2,800 in March 2015.
In the report on the impact of 20% funding cuts to police in England and Wales by 2015 , HMIC said crime had increased by 3% in Devon and Cornwall since deficit reduction cuts took effect, going against the national trend.
But Ch Con Sawyer said, while there had been a small increase in crime, the force area was still "one of the safest places in the country".
The HMIC report said Devon and Cornwall had a lower proportion of officers on the front line than other forces.
Neighbourhood policing was "quite stretched", it also said.
Ch Con Sawyer said he disagreed with the inspectorate's definition that front line officers were only "partially front line".
"In the case of investigators, which are driving the numbers in this calculation, we consider these roles are dedicated crime fighters and fully front line," he said.
Other concerns raised in the report were the force not having a viable policing model beyond 2015, and managers needing a clearer vision.
The Police Federation, which represents rank and file officers, said the HMIC report "highlights what we've been saying for a period of time".
The inspectorate said that 85% of victims of crime in Devon and Cornwall were satisfied with the service they received, which was in line with the national figure.