Kevin Nunes case: Judges condemn 'bad non-disclosure'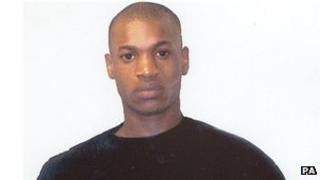 Judges have condemned the "serious perversion of the course of justice" which led to five men having their convictions quashed for a man's murder.
The West Midlands men were found guilty of murdering Kevin Nunes, 20, after a trial in 2008 and jailed for life.
Court of Appeal judges in London allowed the men's appeals in March.
They heard of non-disclosure of material relating to "serious complaints" about the running of a police unit.
At the March hearing Richard Whittam QC, for the Crown, said a detective inspector had made "serious complaints" about the way key prosecution witness Simeon Taylor had been handled by the Staffordshire Police Sensitive Policing Unit.
'Express concerns'
Mr Nunes, a drug dealer, was seized at gunpoint and shot dead in Staffordshire in September 2002.
Levi Walker, from Birmingham, Adam Joof, from Willenhall, West Midlands, Antonio Christie, from Great Bridge, West Midlands, Michael Osbourne and Owen Crooks, both from Wolverhampton, were found guilty of murder after a trial at Leicester Crown Court in 2008.
Lord Justice Hooper, who overturned the convictions with Mr Justice Simon and Mr Justice Stadlen, announced the court's reasons for doing so on Wednesday.
Describing it as a "very bad case of non-disclosure", he said: "It is to be hoped that the appropriate measures will be taken against those responsible for what appears to us to be a serious perversion of the course of justice, if those measures have not already been taken."
Lord Justice Hooper said a 2007 police report about the unit - which followed the inspector's complaint that within it there was "corruption, falsification and dishonesty" - should have been disclosed.
If it had been disclosed the defence would have been made aware that the inspector "was in a position to give evidence which would have seriously undermined... the credibility of Simeon Taylor".
Lord Justice Hooper said following the decision of the Court of Appeal to ask the Criminal Cases Review Commission to investigate the case, Det Insp Joe Anderson came forward to "express his concerns about what had happened and later made a lengthy statement for the purposes of the investigation".
The judge said: "We hope that he will be formally recognised by the Chief Constable, if it has not already been recognised".