Leeds region handed more spending power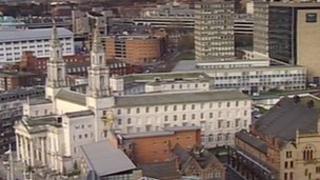 Eleven Yorkshire councils are set to be given control of a £1.4bn fund under plans which will see regions across the UK being handed more powers.
Councillor Keith Wakefield, leader of Leeds City Council, said the announcement was "hugely significant".
Councils receiving the funding can able to spend the money as they choose but must sign up to a series of pledges.
Mr Wakefield said: "We aim to achieve more than 15,000 extra apprenticeships in the next four years".
At the moment councils running England's major cities have to lobby central government if they want extra money to invest in a major transport scheme or regeneration project.
It can take years to get a decision.
Mr Wakefield said: "It marks the first steps of a new era which will allow the north to truly control its own destiny".
Councillor Peter Box, leader of Wakefield Council and chairman of the Leeds City Region Partnership said: "It means we can support businesses to grow, cut through red-tape and get make sure everyone in the workforce is in education, employment or training."
Neil McLean, chairman of the Leeds City Region local enterprise partnership said: "The city deal is the result of months of discussion and refinement and really starts to unlock the potential of the city region."
The Leeds City Region Partnership brings together the eleven local authorities of Barnsley, Bradford, Calderdale, Craven, Harrogate, Kirklees, Leeds, Selby, Wakefield and York and North Yorkshire County Council.
The region covers three million people with a workforce of 1.5 million, 106,000 businesses and an economy worth £53bn per year, according to the partnership.
Public transport, infrastructure and roads will all benefit from investment.