Chessington fall girl 'out of coma and talking'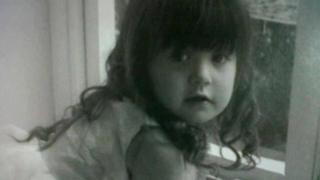 A five-year-old girl who suffered critical injuries at Chessington World of Adventures has been taken out of a medically induced coma and is talking.
Jessica Blake, of Kent, suffered a fractured skull and a bleed on the brain when she fell from a ride queue.
She is currently being treated at St George's Hospital in south London.
Her great aunt, Tina Taylor, said: "She did actually say the other day 'Oh can I go back to Chessington? I promise I'll be more careful?'"
Jessica, of Sheerness on the Isle of Sheppey, fell about 14ft (4.2m) from the raised Tomb Blaster ride queue at the Surrey resort on 7 June.
'Can't walk'
She added: "We didn't know, we just didn't know what was going to happen.
"She was put into a coma because obviously she was extremely distressed. She's out of that coma now.
"I know she is getting better. She is doing well. She can't walk. The left side of her body is affected because the right side of the brain was affected, obviously falling on her head."
Ms Taylor said her speech was still quite slurred but added: "She's got such a great little spirit this little girl. She just wants to get better."
The family have organised a concert, Jamming for Jessica, at the Royal Clarendon Hotel, Gravesend, on 29 July to raise funds for her rehabilitation.
Ms Taylor said: "It's escalated quite dramatically.
"I'm absolutely bowled over, the bands are doing it for nothing, I've had some wonderful prizes donated by people, ordinary people who haven't got a lot of money."
The five-year-old, who also suffered broken ribs, was treated by the resort's medical staff following the incident before being taken by ambulance to hospital in a conscious state.
The Health and Safety Executive (HSE) are investigating the circumstances surrounding the fall.
The theme park said the ride remained closed while they awaited the outcome of the HSE investigation.