Cumbria braced for heavy rain overnight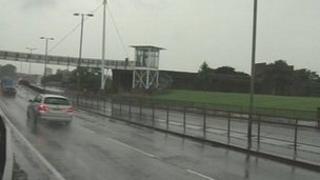 Cumbria has been warned to brace itself for heavy rain overnight, with the chance of localised flooding.
The Met Office has issued a yellow warning and sandbags are being distributed from council depots in Windermere, Kendal and Ulverston.
Saturday's race meeting at Carlisle Racecourse has been cancelled because of a waterlogged course.
The Madness concert due to take place at the racecourse on Saturday night has also been called off.
Organisers said ticket holders would receive full refunds.
The latest warnings follow the UK's wettest June since records began in 1910, according to provisional Met Office figures.
The enhanced content on this page requires Javascript and Flash Player 9
Map Key
Land
Cloud
Lakes, Rivers & Sea
Fog
Light
Heavy
Frost
Light
Heavy
Pressure Fronts
Cold
Warm
Occluded
Rain
Light
Heavy
Extreme
Snow
Light
Heavy
Temperature tab only
Temperature (°C)
More details from BBC Weather