Conisbrough Castle and Scampston Hall lottery funding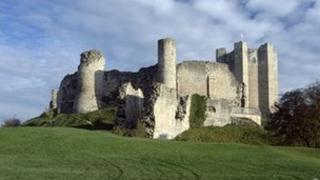 Two historic sites in Yorkshire have been granted almost £2m for conservation and restoration work by the Heritage Lottery Fund (HLF).
A new visitor centre planned for the 12th century Conisbrough Castle near Doncaster has been awarded £900,000.
A further £1m will be used for the restoration of a Victorian conservatory at Scampston Hall in North Yorkshire.
The HLF said the grants would put both sites "at the heart of their local communities".
The project at the Grade I listed Conisbrough Castle will be jointly run by Doncaster Council and English Heritage, who operate the site.
'Rich heritage'
The new visitor centre will house educational and exhibition spaces at the castle, which featured in Sir Walter Scott's novel Ivanhoe.
The English Democrat Mayor of Doncaster Peter Davies said: "This investment will help transform the facilities and ensure visitors and our residents gain maximum enjoyment from its rich heritage."
The conservatory at Scampston Hall, near Malton, was designed in the 1890's by William Richardson & Co of Darlington.
Built on a heated brick wall, the building is a major feature of the walled garden at Scampston.
Once restored it will be used for heritage and education activities for schools and local groups.
Fiona Spiers, head of the HLF for the region, said: "This investment is exciting news as we see two of Yorkshire's much-loved heritage sites brought to life and back to the heart of their communities."