Tamar Valley orchard database is created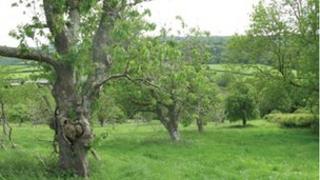 A database of orchards has been created for a valley on the Devon-Cornwall boarder.
Volunteers visited 102 orchards in the Tamar Valley, an Area of Outstanding Natural Beauty, to record their condition.
They also recorded the fruit at the sites which included apples, cherries, pears and plums.
The Peoples Trust for Endangered Species will use the data for its England-wide map of orchards.
The survey also revealed that 39 orchards were being actively managed, 59 showed no sign of recent management, and 24 orchards were at risk.
Of the 102 surveyed, 71 had "veteran tree features" such as flaking bark and holes which encouraged birds, bats and insects to use them.