IPCC annual report finds decrease in police-related deaths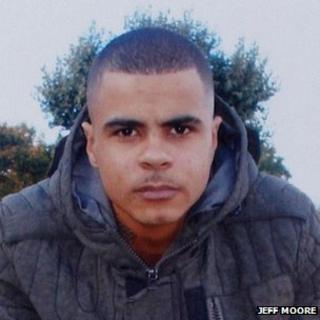 The number of deaths of people during or following police contact has fallen over the last 12 months, according to the national policing watchdog.
The Independent Police Complaints Commission's (IPCC) annual report looks at deaths after or during police activity in England and Wales.
The report showed there were 121 deaths during or following police contact.
A charity has criticised the number of deaths where mental health or substance misuse issues were reported.
Deborah Coles, co-director of Inquest, a charity which advises on contentious deaths and their investigation, said the figures revealed a "disturbing number" of people who were clearly vulnerable or in distress were taken into police custody rather than to a hospital or mental health unit.
She said: "This reflects Inquest's ongoing concerns about the way people with mental health issues are dealt with by the police.
"Urgent questions must be asked as to why such extremely vulnerable people are ending up in police cells which are so clearly inappropriate and dangerous places for them."
The report follows a separate review by the National Statistician after the watchdog was criticised by the media.
In January a joint investigation by BBC Radio 4's File on 4 and The Bureau of Investigative Journalism said that anyone who dies following restraint without being formally arrested is excluded from death in custody figures.
Campaigners called for an inquiry into how the IPCC collates its figures.
The inquiry found the criticisms - that some specific, high profile cases were not properly classified in the figures as deaths in custody and that the figures involving police restraint were incorrect - were unsupported.
Summer riots
The report author said the statistics had been collated conscientiously and consistently but made some recommendations about how future publications could be improved to increase public confidence in their use.
The recommendations include providing more information on the process for compiling statistics and putting the annual statistics forward for an assessment by the UK Statistics Authority against the Code of Practice for Official Statistics.
The IPCC said it had begun consulting with the UK Statistics Authority and anticipates this process will be complete in time for the 2012/13 figures.
In addition the watchdog produced a stand-alone document explaining how its figures are collated and how deaths are categorised.
The report, Deaths during or following police contact: Statistics for England and Wales 2011/12 , showed from 2010/11 to 2011/12:
• The number of road deaths arising from police activity fell from 26 to 18;
• Fatal police shootings remained the same at two;
• Deaths in or following police custody fell from 21 to 15;
• Apparent suicides following release from police custody dropped from 46 to 39;
• Other deaths following police contact such as avoiding contact/arrest and concern for welfare calls fell from 55 to 47.
One of the deaths was the fatal shooting by police of 29-year-old Mark Duggan in north London which sparked the 2011 summer riots.
The other fatal shooting was that of Anthony Grainger who was shot in the chest by a police firearms officer after the car he was in was stopped in Culcheth, Cheshire, in March.
IPCC investigations into both men's deaths are ongoing.
Under the Police Reform Act (2002) forces in England and Wales must refer to the IPCC any incident or complaint involving a death which has occurred during or following police contact and where there is an allegation or indication that the police contact - direct or indirect - contributed to the death.
Dame Anne Owers, chairwoman of the IPCC, said: "It is welcome that there has been a further reduction in deaths during or following police contact this year.
Challenging environment
"But every death is an individual and family tragedy, and we need to continue to ensure that the circumstances of each death are robustly examined and any lessons are learnt.
"It must be of concern that around half of those who die in or following police custody, or who apparently take their lives afterwards, are known to have mental health problems. This reinforces the need for a coordinated response to protecting and meeting the needs of this vulnerable group."
Assistant Chief Constable Dawn Copley, the Association of Chief Police Officers lead on custody, said they were working to establish more appropriate ways to meet the needs of vulnerable people such as those with mental health problems.
She said: "Officers and staff receive training and guidance on how to effectively identify, respond to and care for people in these circumstances (health, mental health or substance misuse problems).
"They do so extremely effectively in the vast majority of cases in what is sometimes a challenging and difficult operating environment.
"The police service however remains determined to continue to improve the way that people are cared for while in our custody."