East Grinstead soldier's Victoria Cross goes to auction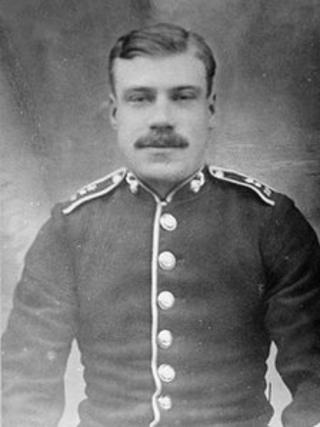 The first Victoria Cross awarded to a private in World War I is estimated to reach between £140,000 and £180,000 when it goes to auction.
Pte Sidney Godley, of East Grinstead, West Sussex, received the medal for his defence of the Nimy Bridge at Mons on 23 August 1914.
He was captured by the Germans and kept prisoner until his escape in 1918.
Pte Godley received his medal from King George V on 15 February 1919. He died in 1957.
His battalion, the 4th Royal Fusiliers, was one of the first to be sent to the Western Front following the outbreak of war in August 1914.
They advanced to the town of Mons, in Belgium, arriving on 22 August.
If the Germans had been able to capture the two bridges over the canal at Nimy, the British expeditionary forces would have been surrounded.
During the German attack on the soldiers on the railway bridge Pte Godley was wounded by shrapnel in his back and a bullet which lodged in his skull.
He took over a machine-gun from his fatally wounded commanding officer and held the position single-handedly for two hours.
He was eventually captured by the Germans.
While at the prisoner of war camp in Doberitz he was told by the German officer in charge that he had been awarded the Victoria Cross.
Spink medal specialist Oliver Pepys said: "The Godley VC is both hugely important and highly emotive and is one of the most famous medal groups of the Great War."
Pte Godley remained a prisoner of war for four years, but on one Christmas Day he was invited to dine with the German officers in recognition of his medal honour.
In 1918 he managed to escape and returned to England via Denmark, from where he sent a postcard to his family.
Unfortunately, the postcard arrived in England on the same day as he did and his family did not know of his return until he bumped into his sister who was out shopping.
In 1956 Pte Godley took part in the celebrations to mark the centenary of the institution of the Victoria Cross at Hyde Park in London.
He died in hospital on 29 June 1957 and was buried with full military honours in Loughton Cemetery in Essex.
Since his death blue plaques have been placed at East Grinstead Town Council offices and 164 Torrington Drive, in Loughton, Essex, where Pte Godley lived for some time.
In 1992 Tower Hamlets Council named a block of flats "Sidney Godley VC House" in honour of the former private who worked as a school caretaker in the borough.