Welding tool causes Manby showground blaze in Lincolnshire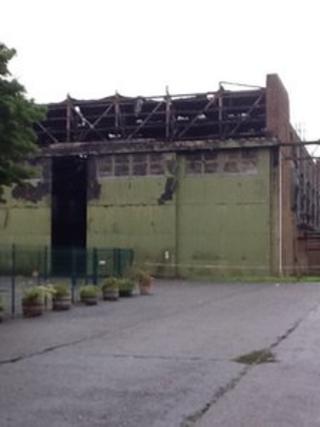 Fire crews believe a welding tool set light to flammable materials and caused a large blaze in a hangar at a former airfield in Lincolnshire.
Six fire engines was sent to Manby showground, near Louth, at about 17:00 BST on Monday.
Police said there had been "small explosions" as a result of the flames. It is thought there were gas canisters inside the hangar.
Police added that there were no reports of any injuries.
Lincolnshire Fire and Rescue said the crew of one engine has remained at the scene and is continuing to damp down.
At the height of the blaze it was tackled by ten fire engines.
Michael Kheng, who was driving from Mablethorpe to Louth when the fire broke out, said: "You could see the smoke as far as Mablethorpe... there were really thick plumes of black smoke.
"You go past the airfield and there were loads of fire engines and driving into Louth you could see response vehicles all firing their way down there."
Nerys McGarry, from Lincolnshire Police, said the blaze was not being treated as suspicious.
Winchester Marine, which owns the hangar, said it contained machinery like engines, old buses and forklifts.