IRA bomb memorial theft: Pair meet Tim Parry's family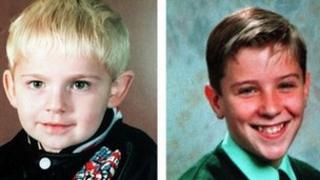 The parents of IRA bomb victim Tim Parry have met the two men involved in stealing a memorial to him from Warrington town centre.
Tim, 12, and three-year-old Johnathan Ball died when two bombs were detonated in the town on 20 March 1993.
Two men who admitted their part in stealing the metal plaque dedicated to both boys took part in a restorative justice programme on Tuesday.
They apologised to Colin and Wendy Parry for their actions.
Cheshire Police said a 29-year-old man from Newton-Le-Willows admitted pulling the plaque from the wall after a night out drinking with friends.
He left the plaque on the ground in Bridge Street and walked away.
'Saddened'
A 57-year-old, from Warrington, admitted later picking up the A3-size plaque.
He produced it when officers went round to speak to him at this home address.
Both were arrested and released on bail. Police, along with Warrington Borough Council and Mr and Mrs Parry, then decided restorative justice would have the best outcome for all those involved.
The restorative justice process brings together those who have committed offences and their victims.
The 29-year-old has offered to raise money for the Tim Parry Jonathan Ball Foundation For Peace through a sponsored event, and the 59-year-old will carry out four days of voluntary work to support the Warrington community.
Both men met councillors Terry O′Neill and Mike Hannon of Warrington Borough Council, Mr and Mrs Parry and Ch Supt Richard Strachan from Cheshire Police.
Mr and Mrs Parry said they valued the opportunity to meet the two men involved in the theft.
They said: "It enabled us to express in very frank terms just how disappointed and saddened we were by their thoughtless acts, especially as they both live locally.
"Both displayed remorse and regret for their actions and accepted with good grace the community-based punishment suggested by ourselves and supported by the councillors present.
"We were able to inform them of the importance of the work of our foundation and to help them appreciate that we need support and not mindless acts of vandalism if we are to continue to build the good reputation of the town and its residents.
"Today we witnessed restorative justice in action and we feel it was the most appropriate course of action available to us taking account of all those involved and affected."
Ch Supt Strachan said restorative justice allows offenders to talk about what they have done and why they did it.
"This has been a challenging experience for the two men involved," he said.
"They have had to sit and listen to those who have been directly affected by the choices they made that night in Warrington town centre when the plaque was pulled off its wall fixings and then stolen."
The plaque formed part of the River of Life memorial on Bridge Street in Warrington, which was opened by the Duchess of Kent in 1996.
It was stolen sometime between 20 April and 5 May and its disappearance was noted by a council employee.