Herefordshire Housing inquiry after Ross-on-Wye floods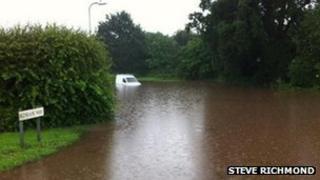 A housing association is to hold an inquiry after a sheltered housing complex in a Herefordshire village had to be evacuated due to flash flooding.
About 20 elderly people in Smallbrook Gardens were taken to a community centre when floods hit Ross-on-Wye last week.
A short inquiry has been held by the county council after criticism of the housing association's "slow reactions".
Herefordshire Housing has admitted it "could have acted faster".
The housing association's chief executive Peter Brown told BBC Hereford and Worcester: "I accept we were slow and we could have acted faster, it was about how we collected information and how we acted on it.
"We need to learn from this and make sure we are quicker in the future and I'm pleased to be holding an inquiry."
Responsibility 'admitted'
He added that the association operated more than 5,500 properties and that the organisation was receiving calls from other parts of the country hit by flooding.
Andrew Atkinson, ward councillor for Ross-on-Wye east, said six homes in Tudorville were also affected but not evacuated.
Mr Atkinson said: "We held a short inquiry at the council and I'm impressed that Herefordshire Housing admitted responsibility for everything.
"They could have co-ordinated [rescue efforts] better which wouldn't have left people wondering."
On Monday he criticised the housing association for being "extremely slow to act on the day".
On Friday, 6 July, Herefordshire Council said it received more than 120 reports of flooding across the county and more than 4,000 sandbags were handed out.