Lucia Sharma's family get East Surrey Hospital damages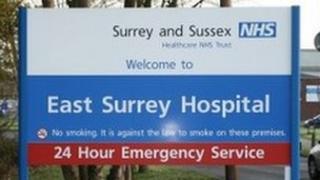 A father awarded six-figure damages after blunders at a Surrey hospital led to the death of his 37-year-old wife has said he remains "bitter and angry".
Lucia Sharma, from Crawley, West Sussex, died in May 2009 after East Surrey Hospital in Redhill failed to spot a brain haemorrhage.
Her husband, Hitesh, said their two young sons were amazingly strong but nothing could replace their mother.
Surrey and Sussex NHS Trust said it deeply regretted the "tragic" case.
The trust agreed undisclosed damages at the High Court in London after a clinical negligence case on behalf of Mr Sharma and his sons, Isaac, now 11, and Sullivan, now four.
Mr Sharma said his wife's treatment amounted to a "catalogue of errors" after she was taken to hospital by paramedics when she collapsed at home on 5 May.
She was admitted for two nights but a CT scan failed to detect a subarachnoid haemorrhage - a type of stroke caused by bleeding in and around the brain.
Devastating effects
Mr Sharma said his wife suffered "excruciating" pain, headaches, nausea, lack of energy and vomiting.
On 12 May, the hospital spotted the error and asked her to return urgently. After a seven-hour wait at East Surrey, she was transferred to St George's Hospital, Tooting, where she died the next day.
Mr Sharma said the effects had been devastating for everyone, but particularly for Isaac.
"He misses his mum, obviously," he said. "I am always going to be bitter and angry.
"I don't want this to happen to anyone else. People should look out for these symptoms and not be brushed off."
Chief Executive of the trust, Michael Wilson, said it reiterated its deepest condolences to Mr Sharma and his sons.
"We have always admitted that in this case we got it wrong," he said.
"We have absolutely learned lessons from Lucia's death and the hospital is a very different place to where it was in 2009."