Shafilea Ahmed death: Father says she lied about abuse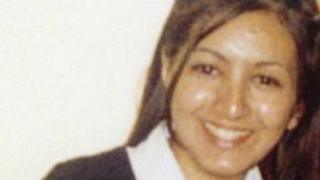 Shafilea Ahmed lied when she said she was beaten because she would not agree to a forced marriage, her father has told Chester Crown Court.
Iftikhar Ahmed, 52, said what was written on her application form for emergency accommodation was "not true".
Mr Ahmed and his wife Farzana Ahmed, 49, of Warrington, both deny murdering their 17-year-old daughter.
Shafilea disappeared in September 2003 and was found on the bank of the River Kent in Cumbria in February 2004.
Her emergency accommodation application was read to the jury by Andrew Edits QC, for the prosecution.
Under the heading 'Reasons for leaving home', Shafilea, whose 26th birthday would have taken place on Saturday, wrote: "Forced into arranged marriage in Pakistan".
'Regular violence'
Mr Edis said that under the heading 'Nature and incidents of violence', Shafilea wrote: "Regular incidents since I was 15 or 16. One parent would hold me while the other hit me.
"I was prevented from attending college and my part-time job. I'm scared of going back to my parents and frightened enough to flee my home."
Mr Edis said to taxi driver Mr Ahmed: "That's a tissue of lies, according to you, isn't it?"
The defendant said: "Yes."
The barrister continued with Shafilea's statement, in which she said: "There has been a build-up to the violence towards me and my mother told me I was about to go to Pakistan for an arranged marriage and my mother had begun to pack.
"My parents had been into school and told my teachers I would be absent and going to Pakistan."
Mr Edis said: "Shafilea feared she was going to be married off, that's her perception isn't it?"
Mr Ahmed said: "This paperwork Shafilea filled in, what she's put down was not true."
Daughter's evidence
The prosecution claims she was killed by her parents because she brought shame on the family by her desire to lead a westernised lifestyle.
Mr Edis asked Mr Ahmed about his daughter Alesha's allegation that the couple murdered Shafilea, which she made to police after being arrested over a robbery.
"Is there any reason that you know of why she might make up something of that kind?," he said.
Mr Ahmed replied: "The only reason I can think of is that she was trying to get off the robbery."
Mr Edis suggested Alesha had "escaped", adding: "That is what your daughters have to do, isn't it? Submit, escape or die?"
Mr Ahmed rejected this.
The trial continues on Monday.