London 2012: Kent passengers warned not to miss the boat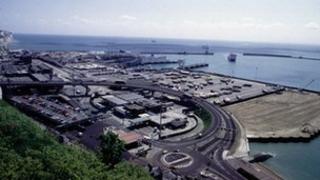 Passengers and freight drivers heading for Europe via Kent are being urged to set out earlier when the torch relay is in the area or risk missing the boat.
Some roads near Dover docks will be closed when the Olympic flame passes through the town, and some Eurotunnel services have been cancelled.
One ferry line is advising people to allow up to an hour extra to get to the port on Wednesday.
And holidaymakers are being warned: "The ferries won't wait."
The Olympic torch relay arrives in Kent on Tuesday, but it is on Wednesday that the county's contingency plans get into full swing.
The torch is due at the Channel Tunnel, near Folkestone, shortly before 15:00 BST, when it will briefly enter the tunnel.
Delays near port
Eurotunnel has cancelled the 15:50 and 16:50 services to Calais and the corresponding trains in the opposite direction to allow for the celebrations.
But a spokeswoman said customers would not be affected, as advanced bookings had allowed for these arrangements.
"There should be no impact on our customers because people get to us mainly from the M20, and that will remain open."
However, ferry companies say passengers travelling on Wednesday evening can expect some delays while roads around the ferry port are closed.
A spokesman for DFDS Seaways said: "We normally say to arrive at the port 45 minutes before departure to allow for check-in, queuing and boarding.
Road closures
"But on this occasion we would advise people to add possibly up to an hour to ensure they can get through the traffic."
She said people arriving too late would be allowed on later services, subject to availability.
Among the roads closing in Dover on Wednesday afternoon and evening are Prince of Wales Pier, Esplanade, the A20 at Snargate Street and Castle Street.
The whole of Cambridge Road, which is close to where the evening celebrations are being held, will stay closed until the early hours of Thursday, as will Russell Street, which is a base for park-and-ride buses.
Full details of the torch route and timings are available on the BBC London 2012 website .