HS2 campaigners return to Parliament for rally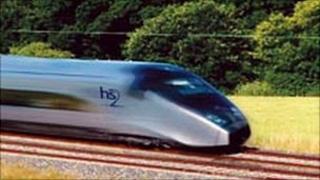 Protesters fighting plans for a high speed rail (HS2) link between London and the West Midlands have held another rally Westminster.
Stop HS2 said up to 300 of its supporters demonstrated outside Parliament on Monday, the day before MPs start their summer break.
The group said the business case for the line from London to Birmingham is unrealistic.
The government said it is needed to link cities and boost the economy.
Speaking about the latest rally, Penny Gaines, chairwoman of Stop HS2, said: "It will send a strong message to Members of Parliament that it is something that people are really bothered about.
"We picked that date because MPs break up on the 17th and we want to make HS2 one of the last things they think about as they start their summer break."
The first phase of HS2, between London and Birmingham, was approved by the government in January and is due for completion by 2026.
Trains will pass through rural parts of Buckinghamshire, Oxfordshire, Northamptonshire, Warwickshire and Staffordshire at up to 250mph.
The second phase of the £33bn project will extend the route to Leeds and Manchester.
Ms Gaines said: "The business case [for HS2] is appalling. It relies on a huge growth in long distance travel at a time when demand for it is falling.
"It's not going to reduce carbon emissions and will go through areas of the countryside.
"There's no business case, no environmental case and no money to pay for it."
Monday's protest coincides with an announcement by the coalition government that £9.4bn is to be invested in the railways in England and Wales.