Thames Valley police helicopter cuts criticised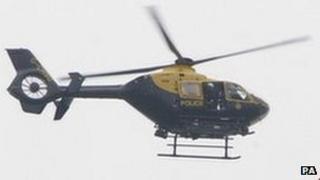 Thames Valley Police Federation has raised concerns about how air support will be affected by a new national police helicopter service.
Two helicopters available to the force will be reduced to one when a local collaboration between Bedfordshire and Hertfordshire police ends on 1 October.
Chief Constable Alex Marshall said despite the cuts it would lead to an improved service.
He said it meant helicopters were not restricted by boundaries.
Mr Marshall, Hampshire's chief constable who is coordinating the new service, said: "Air support has grown up piecemeal over the years.
"That means that some forces have their own helicopter, some forces don't have any helicopters.
"As a chief constable and as an operational police officer, it doesn't matter to me what crest is on the helicopter up above, I want to know that I can get a helicopter in under than 20 minutes."
'Difficult to understand'
He added that under the current set up, 97% of the population of England and Wales were within 20 minutes of air support and said that would increase to 98% while saving police between £12m to £15m.
In total the number of aircraft nationally will go from 31 to 25.
The Secretary of the Thames Valley Police Federation, Andrew Viney, said: "What they are saying is they are reducing the number of aircraft across the country but the level of cover will not change.
"That's quite difficult to understand in many respects because it's not necessarily about the attendance time of these aircraft but the availability.
"One of our concerns is that you shouldn't save so much money that you compromise on service to the public or indeed service to our colleagues."
But Mr Marshall said: "We can still give a great service in a better organised way and it saves about 20% of the total cost at a time when the police budgets are being cut by about 20%."