Dorset landslip: Tunnel deaths case referred to IPCC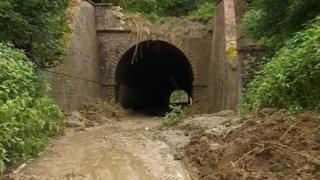 Dorset Police is to refer the case of a couple whose bodies went undiscovered under a landslip for more than a week to the police watchdog.
The woman and her male companion, named locally as Rosemary Snell and Michael Rolfe, went missing on 7 July.
The car they were travelling in was found near the partially-collapsed Beaminster Tunnel in Dorset on Monday.
The Independent Police Complaints Commission (IPCC) said Dorset Police is to refer the case for consideration.
Deaths 'assessed'
The IPCC said: "Dorset Police will be referring the Beaminster tunnel landslip deaths.
"This will be assessed and a decision made about the mode of investigation."
Dorset Police confirmed the force had made a voluntary referral to the IPCC.
A statement said: "While no areas of concern have been identified, due to the high level of public interest in this incident, Dorset Police is keen to display transparency and to ensure that there is an independent oversight into actions of the force."
The vehicle, a silver Skoda, is believed to have been buried for more than a week.
The A3066 road, which runs through the tunnel, has been closed since the landslide.
Rescue crews began searching the area on Monday after receiving information that two missing people had been in the area.
Dorset Police confirmed two bodies had now been recovered after the car was removed to a police station in Weymouth to allow further work to take place.
Friends told how Ms Snell, from Misterton, near Crewkerne in Somerset, volunteered in the local community and was a member of the Women's Institute.
Tributes have also been paid to Mr Rolfe in his home village of Fivehead, near Taunton, Somerset.
Steve Chastell, landlord of the Crown Inn, said: "He was very private, very much a gentleman and very polite."
He said Mr Rolfe had told him he was going away for the weekend and then failed to turn up on the Monday to buy his newspaper.
"On the Tuesday we then had a phone call asking if we'd seen him," he said.
Neighbour Audrey Goose said: "He was a very nice gentleman. We used to see him when we were out walking the dogs.
"He always spoke to us, it's quite a shock to hear when something like that happens."