Newcastle's Freeman Hospital gets first robot "surgeon"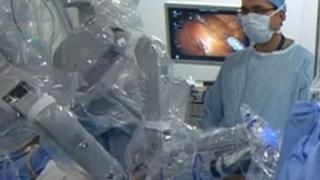 A cancer patient has become the first person in the North East and Cumbria to have surgery carried out by a robot.
The patient, in his 50s, had his prostate gland removed by £2m Da Vinci, at the Freeman Hospital in Newcastle.
Da Vinci's operating blades are controlled remotely by a surgeon a few feet away using a 3D microscope.
The technology was developed by the Nasa space programme and means patients can be operated on more quickly and their recovery time reduced.
Removal of the prostate can result in impotence or incontinence, but the greater precision used during the robot-assisted technique reduces the risk of complications.
'Small hands'
The Newcastle Hospitals Foundation Trust is planning to use the robot on urological cancer patients, and those with throat and mouth cancer.
Consultant urologist at the Freeman, Naeem Soomro, said: "This new development will ensure improvements in the care of patients with certain cancers.
"The technology is bang up-to-date - the robotic system can see very clearly in high definition and it can work very well in narrow spaces, very precisely.
"The small hands of the robot give access to cavities of the body inaccessible to the human hand.
"Very complex surgery can be carried out very quickly and patients recover more quickly."
The technique is performed widely in France and leading robotic surgeon, Professor Pierre Thierry Piechaud, from Bordeaux, joined Mr Soomro to oversee the Freeman's first operation.
Patients from all over the North East and Cumbria will be considered for the surgery.