East Midlands Trains: Aslef 'hell-bent on Olympic disruption'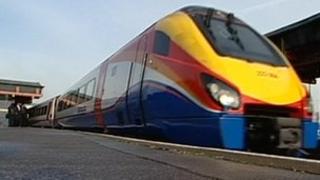 The union representing East Midlands Trains drivers has been accused of being "hell-bent on disrupting the Olympic Games".
Aslef confirmed members employed by the rail firm will take strike action on 6,7 and 8 August over pension changes.
David Horne, managing director of East Midlands Trains, called the union's behaviour "nothing short of shameful".
The union said it would not allow the Olympics to "affect what is happening to our pensions".
Aslef and East Midlands Trains have been in talks since Friday, the day after Aslef announced plans for its members to strike during the Games.
Mr Horne said: "Every time we make progress and reach an agreement, the union creates further obstacles."
He accused the union of refusing to put an agreed deal to members.
'Way out'
Andy Botham, from Aslef, said the union had offered "numerous options" to East Midlands Trains and had looked at "finding a compromise".
"We're far from being hell-bent on disrupting the Olympics; that's the last thing we want to do," he said.
"We've continued with strike action that was in place... we don't feel the Olympics should affect what's happening industrially and certainly shouldn't affect what's happening to our pensions."
Mr Botham added that Aslef was open to further discussions and hoped that it could "find a way out of this without taking any action".
In June, the union suspended two strike dates to allow negotiations to take place.
The union said its members oppose the firm's plans to reduce both its own and staff contributions to its pension fund from July.
The train operator said last month that the change would leave drivers £500 a year better off without affecting pension benefits.