Search for boy after quarry swim in Dudley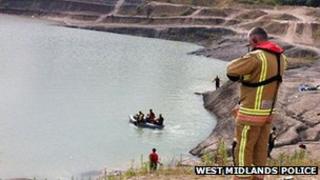 A search is under way for a teenage boy who got in to difficulty while swimming at a quarry in the West Midlands.
Emergency services were called to the site at Lower Gornal, Dudley, at 13:17 BST.
Ch Supt Stewart Johnson from West Midlands Police said the 14-year-old boy had been swimming in the quarry with a group of friends.
He said: "He slipped below the surface of the water and there was no trace of him when officers arrived."
He added: "We've found no trace of him coming out of the water at any other point and we're concerned that he didn't come back up to the surface."
Eyewitness Stuart Mills said there had been a large group of between "40 and 60 youngsters messing about" at the quarry, swimming in the water.
Steep sides
Officers have cordoned off the area at the back of the Crooked House pub while the search continues.
West Midlands Police said its helicopter was using on-board thermal imaging equipment to look for the boy and that underwater search teams had been brought in.
Ch Supt Johnson said: "They'll search the immediate area where the boy was seen to go into the water.
"We have two or three hours of daylight left but if that search is unsuccessful initially it may be that we have to secure the scene and continue tomorrow morning."
The police said the quarry had steep sides and was up to 40 ft (12m) deep in some places.
John Woodhall from West Midlands Ambulance Service said a range of issues including the temperature, depth and lack of visibility in the water could pose unforeseen dangers for swimmers.
He said: "It is only day three of the school holidays and this combined with some of the warmest weather we have had has undoubtedly meant water such as this has looked enticing, but sadly it also brings very real dangers.
"The reality of the situation is that every year we have to deal with cases where swimmers of all ages have got into difficulty for a variety of reasons."
The force said the family liaison officer was supporting the boy's family.