King's School's regret over teacher Bruce Roth's abuse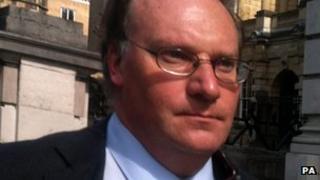 A public school head teacher "regrets the hurt and offence" a former teacher, who was jailed for sexually abusing boys, caused the victims of his crimes.
Bruce Roth, 46, abused two boys while he worked at King's School in Rochester, Kent and three boys at Wellington College in Berkshire.
He was jailed for 11 years after being found guilty of 17 offences.
King's School head Dr Ian Walker said it was matter of regret there was insufficient evidence at the time.
During the trial at Reading Crown Court jurors were told an internal investigation at the school cleared Roth of wrongdoing after complaints were made against him by two pupils.
'Pupils are protected'
Dr Walker said: "These events occurred more than 20 years ago but King's Rochester regrets the hurt and offence that its two former pupils have suffered.
"The school and its senior staff acted at all times both properly and with care, and in accordance with all the legal requirements of schools at the time.
"When Roth moved, in 1994, to a teaching post at Wellington College, the then Master of Wellington was advised by telephone of the school's investigation and its outcome."
He added: "The welfare of the young people in our charge is our first and most important responsibility.
"The school's current child safeguarding policies and practice are fully compliant with the much more stringent regulations now in force and will help to ensure that King's pupils are protected from the behaviour of men like Roth in future."
'Sickened and appalled'
Roth had denied all the charges against him, accusing his victims of conspiring against him because they did not like him as a teacher.
He was convicted on all counts by a jury on Tuesday.
The police investigation went back to the 1980s and concluded with Roth's arrest in 2009.
Following the verdict, Wellington College's master Anthony Seldon said he was "deeply sickened and appalled" by the case.
He said Roth had been suspended as soon as the accusations were reported.