London Midland ticket office closure protests held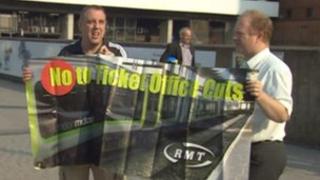 Protests have been held at four railway stations in the West Midlands over proposals to close ticket offices.
Campaigners said they were angry at plans by London Midland that could see nine ticket offices closed and opening hours reduced at a further 77.
London Midland said the number of tickets being bought at offices was in "steady decline".
Leaflets were handed out at stations in Birmingham, Stourbridge and Worcester.
The Department for Transport (DfT) said it would be making a decision on the London Midland proposals soon.
The TUC said Adderley Park, Bescot Stadium, Cheddington, Duddeston, Jewellery Quarter, Lye, Small Heath, Witton and Wythall stations would see closures under the plans.
A spokesperson said: "Rail passengers are being hit by closures to ticket offices which will leave many stations deserted and devoid of staff.
"The public wants the help, reassurance and safety that rail staff provide."
The DfT said: "The government is committed to seeking an end to the era of inflation-busting fare rises, and to do so we need to improve the efficiency of the railways.
"However, we are also determined that passengers must continue to have easy access to a range of options when it comes to buying tickets. "
London Midland said: "Passengers now have many more choices available for buying a ticket compared to when the opening hours for many ticket offices were established.
"There are ticket offices that sell very few tickets when they are open and so it makes no commercial sense to have our people working at these times.
"Last year we widely consulted on our proposal to change our ticket office opening hours; including with our staff and the rail unions."
The rail operator runs routes through central England, connecting London and the Midlands with the North West.