Bruce Roth victim takes action against King's School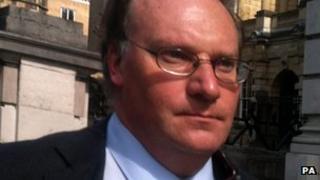 A former pupil is taking legal action against a Kent public school he claims failed to protect him from being sexually abused by a teacher.
Bruce Roth, 46, was jailed for 11 years for abusing two boys at King's School in Rochester, Kent and three boys at Wellington College in Berkshire.
One victim, who now lives on the south coast, said he was angry with King's School for not stopping Roth sooner.
King's School said there was insufficient evidence at the time.
The victim, who agreed to be called John, was abused by Roth when he was an eight-year-old pupil at the school in Rochester.
He said: "There was several evenings where lights out would happen, we'd be in bed in our dormitory, and he'd sit at the end of my bed and sexually abuse me.
"This could have been stopped, this could have been stopped a long time ago. Through the actions of people at the school it wasn't, it continued on."
John added: "My anger primarily is towards the school.
"Roth is a very, very sick, perverted man and had this been stopped at an early age, had this been stopped years ago, I believe he wouldn't have been able to re-offend and to attack other children and to do this to other people."
He is now taking civil action against the school.
During the trial at Reading Crown Court jurors were told an internal investigation at the school cleared Roth of wrongdoing after complaints were made against him by two pupils.
Roth left the school in 1994 to work at Wellington College in Berkshire where he abused three other boys.
King's School said it advised the college of its investigation into the allegations against Roth by telephone.
In a statement on Wednesday, King's School head teacher, Dr Ian Walker, said: "These events occurred more than 20 years ago but King's Rochester regrets the hurt and offence that its two former pupils have suffered.
"The school and its senior staff acted at all times both properly and with care, and in accordance with all the legal requirements of schools at the time.
"It is, nevertheless, a matter of regret that we were unable to establish the truth at the time of the offences."
Following the verdict on Tuesday, Wellington College's master Anthony Seldon said Roth was suspended as soon as the accusations were reported.