Eton Dorney Lake rowing events end on day one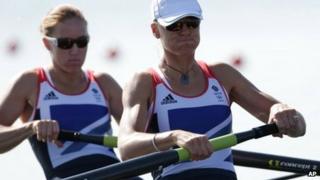 The first day of London 2012 rowing events at Eton Dorney Lake in Buckinghamshire has to come to a close.
Despite thousands of people attending the venue, there were no major travel delays reported.
Shuttle buses transported people from Slough, Windsor and Eton Riverside and Maidenhead railway stations.
There were some complaints of queues of up to 50 minutes for free water inside the venue. Locog has promised to work to reduce delays.
Spectator Anna Woodhams said: "There was an excellent atmosphere.
"The people doing the catering weren't coping very well, but it's day one and it was ok. I'm sure they will learn from it."
A spokeswoman for Locog said: "There are five free waters points within the venue and also 19 concessions selling water.
"Yes, there were queues and we're working hard to keep them to a minimum."
In the first race, Team GB's Helen Glover and Heather Stanning booked their place in the final of the women's pair in an Olympic record time.
Thames Valley Chamber of Commerce said hotels in the nearby area were fully booked and predicted the events would generate about three quarters of a billion pounds for the local Thames Valley economy.
Windsor and Maidenhead Borough Council and Buckinghamshire County Council have put in place special parking and travel arrangements from Saturday until events finish on 11 August.
Residents have been advised to time their journeys outside the Games peak times of 07:00 BST to 09:00 and 12.30 to 15:30.
Certain roads will be closed off while others will have restrictions on stopping, access and parking.
Games shuttle buses will run along the A308 to and from Maidenhead station and also to and from the park and ride sites at Braywick and Stafferton Way, Maidenhead.
Thames Valley Police will be responsible for controlling transport hubs around the area, covering an additional 300 acres.