Eton Dorney Lake rowing fans hail 'fantastic' day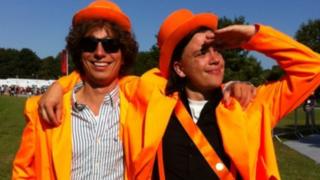 After years of test events, preparations and build-up this was Eton Dorney Lake's moment in the spotlight.
It was an early start for the thousands of people heading to the Berkshire venue for the start of the London 2012 rowing events.
The operation to get spectators in and out ran with military precision as hundreds of buses shuttled people from train stations and park and ride sites.
But the day did not go completely without a hitch.
Most came prepared for the airport security-type rules, but restrictions on liquids led to many having to queue for free water inside the venue, with one couple reporting a 50-minute wait.
While other spectators were delayed waiting for food.
But as Tim Woodhams put it: "In a word it was great."
His wife Anna added: "There was an excellent atmosphere.
"The people doing the catering weren't coping very well but it's day one and it was ok. I'm sure they will learn from it."
Jacques Snyman, from Fleet in Hampshire, said: "The event was fantastic, there was a big screen, the park and ride was efficient the toilets were excellent.
'Fantastic atmosphere'
"But the queues for the food and water were really bad. It took up to 50 minutes just to get free water."
In the build-up to the event there had also been fears over security at the site after a manager working for G4S told the BBC preparations had been "a shambles".
But on the ground everything appeared to be running smoothly, with a discreet police presence, patrols by military personnel and friendly stewards on hand to help.
However, even they could not help a German fan who had made the journey without a ticket and was disappointed to find none were being sold at the gate.
For those who had already got inside, British rowers Heather Stanning and Helen Glover stuck to the script by winning their heat, and the first race of the day, in a new Olympic record time.
It was the perfect start for many who had made long journeys.
Andrew Denny, from Chelmsford in Essex, said: "Having stayed up to watch the end of the ceremony it wasn't that easy getting up at 5.20 this morning.
"But it was very exciting to be at one of the first events."
While Pieter Deckers came to the UK from the Netherlands to cheer on competitors from his country.
As the day's races came to a close people started flooding out, with many having tickets to other 2012 events later in the day.
Mary and Kat Worden, from Preston, were making a weekend of it after securing swimming tickets for Sunday.
"It's worked out perfectly," Mary Worden said.
"We've been able to come down for the weekend, we got greeted off the train and there has been a fantastic atmosphere."