Is there really an Olympics event going on around here?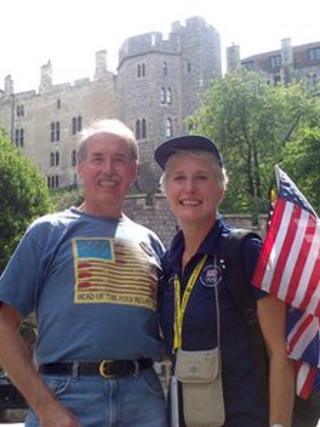 Early Monday morning and the sun is beaming down on Windsor's regal town centre.
Day three of the Olympic rowing events is getting under way at nearby Eton Dorney, but the town is surprisingly empty and devoid of traffic.
At Windsor Riverside, which offers the main shuttle service to Eton Dorney, the car park is only about 5% full.
Gemma Bradbury, from Oxford, said: "I'm amazed. I'm meeting my friends coming by train to go to the rowing, and I thought I'd better get here early, expecting it to be rammed."
Meanwhile the queue for the shuttle service outside the red-bricked station already has about 300 people in it.
The steady stream of buses arriving every two to three minutes means fans are on their way to Eton Dorney in no time.
Everywhere staff go out of their way to greet everyone with a "good morning" and a smile.
'Oar-some time'
And the positive atmosphere continues on the buses, with one Briton saying to a group of Kiwi fans: "Good morning New Zealand, it's good to have you on board.
"Good to have you in the mother country."
Throughout the journey to the venue there are scores of helpers, offering information and greetings for some of the 25,000 spectators expected each day.
One called out: "Enjoy your day, have an 'oar'-some time".
Bobby Boutilier, from Nova Scotia, Canada, said: "I was not expecting such efficiency."
His compatriot, Nick Bester from Vancouver, said: "We arrived from central London in an hour. We thought it would take at least two and a half so we're very early."
Randall Wilson from Des Moines, Iowa, was travelling through Windsor with his wife Julia, president of their local rowing club.
He described the transport arrangements as "stellar".
"We haven't had any long queues and the only blackspot was when our Olympic tickets wouldn't scan and we had to buy new ones, but we've had fantastic experiences."
Same key rings
Ben Smith, in charge of transport for Royal Borough of Windsor and Maidenhead during the Games, said: "All the spectators that we've spoken to, or got feedback from, had a real positive time.
"We just hope that continues today while people are back at work."
Back in Windsor town centre, it is 09:00 BST and apart from those at the castle ticket office, there do not appear to be many tourists out and about.
In fact, cafes and gift shops reported no particular increase in trade over the weekend.
Malkit Aujla, who runs AP Souvenirs and Gifts, said it was his worst year in 11 years of trading, and that no-one was buying the officially licensed Olympic souvenirs.
"We've had the same rack of key rings for the past two years, they are just not selling because at £5.99 they are too expensive."
He added: "I'm £4,000 down from this time last year."
His wife Sukhi runs another shop, the Little Present, further along the street.
She said: "During the Royal Wedding last year we made double what we usually make, but with the Olympics we've hardly sold anything."
Among the tourists who have made the trip to Windsor, Ronald Blom and his family found shorter than normal queues for the castle.
He said TV news coverage in Holland about delays and transport chaos would have put potential visitors off.
"A lot of people might not be coming because they think it's too busy and more expensive," Mr Blom said.
They admitted they would not have come to Britain if they had not had tickets for the Olympic judo and swimming events.