Tom Daley Twitter abuse: Boy given warning and bailed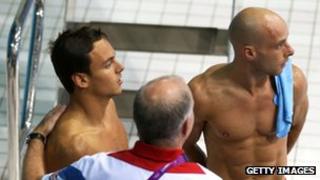 A teenager arrested over a malicious tweet sent to Team GB diver Tom Daley has been issued with a warning.
Dorset Police said the 17-year-old boy was held at a guest house in the Weymouth area on suspicion of malicious communications and later bailed.
After coming fourth in the men's synchronised 10m platform diving event on Monday, Daley, 18, from Plymouth received a message on Twitter.
It told him he had let down his father Rob, who died in 2011 from cancer.
Police said the teenager was given a harassment warning before being bailed pending an investigation into other communications on his Twitter account.
Shortly after missing out on a medal on Monday, Daley retweeted the message from the boy which said: "You let your dad down i hope you know that."
He then responded to the tweet by posting: "After giving it my all...you get idiot's sending me this..."
The teenager later posted a tweet apologising for the comment.
He said: "I'm sorry mate i just wanted you to win cause its the olympics I'm just annoyed we didn't win I'm sorry tom accept my apology."
He later added: "please i don't want to be hated I'm just sorry you didn't win i was rooting for you pal to do britain all proud just so upset."
After Daley sent the tweet on to his followers, he received a flood of supportive messages.
Rob Daley, who was instrumental in helping his son become one of the world's top divers, was diagnosed with a brain tumour in 2006.
He had 80% of a fist-sized tumour removed that year and had been in remission until a routine health check in 2010 discovered a tumour had returned.
Speaking before the Olympics, Daley said his father had given him the inspiration to compete in the Games.
He told the BBC: "I'm doing it for myself and my dad. It was both our dreams from a very young age.
"I always wanted to do it and Dad was so supportive of everything."