A12 in Essex and Suffolk may get average speed cameras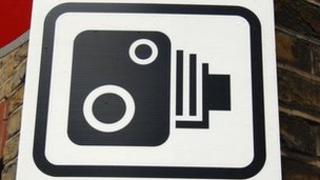 Proposals are being considered to introduce average speed cameras on two stretches of the A12 in East Anglia.
The Highways Agency is looking at installing them on the Kelvedon bypass in Essex and at Hughes Corner near East Bergholt in Suffolk.
The agency said it would be dependent on getting funding from government.
The Automobile Association (AA) said it would reduce accidents, but improvements are also needed at junctions.
Andrew Howard, head of road safety at the AA, said: "All the indications are they don't seem to catch many people, but they seem to reduce speeds on the road and reduce the accidents.
"But it's very much another sticking plaster and we would like to see things like grade separation of junctions stopping little accesses along it which are known to be one of the major accident causes on this road.
'Waste of money'
The Highways Agency said Kelvedon stretch would cover 4.2 miles (6.7 km) between Rivenhall End and Green Lane, while Hughes Corner would run for 2.3 miles (3.7 km) between Stratford St Mary and Wenham Lane.
An agency spokesperson said: "We will develop the plans as and when funding becomes available."
Lesley Hill, vice chair of Kelvedon Parish Council, said: "People in Kelvedon don't really use the bypass because we join it at either end.
"We do get a lot of accidents on the A12 which means traffic is often diverted through Kelvedon and Feering, so I think average speed cameras would be a good idea."
John Hinton, chairman of East Bergholt Parish Council, said: "I would much rather see the slip roads lengthening, so people have good visibility for joining the A12.
"Average speed cameras are a waste of money, because all they will do is exacerbate the problem by bunching up traffic so there are smaller gaps for people to join the A12 and they will be forced to take unnecessary risks."